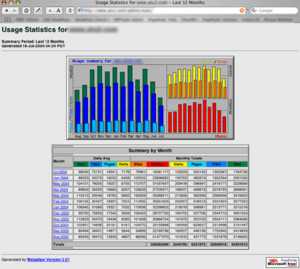 Back in the day, it was enough to place a hit counter on your home page to see how many people visited your web site. Today, public hit counters are considered tacky and unprofessional, and the reality is that they never provided a truly accurate picture of how many customers were using a web site.
OWT offers a complete Webalizer stats package to help our clients learn more about how much traffic their site regularly receives. Our system is updated once a week. It tracks visitation on a monthly, weekly, daily, and even hourly basis. It tracks which pages on your site are the most popular; which pages customers typically "start" on when they get to your site; which pages customers are looking at when they leave your site; and much more. It measures statistics such as page views, unique users, visits, throughput, and more. It reports what search terms were used to find your site when visitors find your site from a search engine.
And to help sort out all the details provided by our Web Stats system, OWT also offers a help file so our clients can better understand the numbers and terminology.
Analytics?
We're not sure when this word was invented but in this context it generally refers to Google Analytics. This is a free service that provides some statistics and analysis for your site. This can be added to any site for free. Google Analytics is less about raw statistics and more for seeing trends but it really is a great tool.
Pricing

OWT's Web Stats system is included, by request, at no additional charge with our Premium Hosting Services.