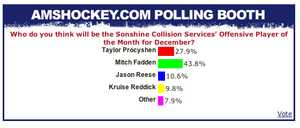 Online polls are an easy way to add interactivity to your web site, and OWT's poll system offers the flexibility you need no matter how you plan to use polls on your web site. Our system includes an online management tool that lets you customize poll questions to match your needs. Features include:
up to eight (8) possible answers for each question
customizable options for displaying question
customizable options for displaying poll results, including

color-coded

bar graphs
customizable expiration date for each question
much more...
Our polls software is currently being integrated into the OWT CMS Premium Edition. We will have more information when that has been completed.