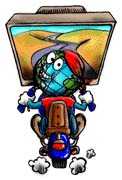 OWT is an expert team of professional design, programming, and SEO specialists committed to helping our clients succeed online through the development of cost-effective, simple, attractive, customer-friendly (and search engine-friendly) web sites.
We work with smart clients who like personal attention and clear, no-nonsense advice and answers to questions. We were the first company in the Tri-Cities, WA, area doing web development, and we continue to be recognized as the leaders in this fun and challenging industry. OWT has been designing and programming powerful websites since 1994 and has developed tools that allow us to create sophisticated web sites and applications efficiently and cost-effectively.
If you're looking for a company that loves what it does, a company you can trust to help your business succeed online, and want intelligent, straightforward ideas about how to make that happen, give us a call (or send an email) and let's start talking.
We emphasize a cost-effecitve approach. We will tell you straight up what we think and why. Some solutions have more bang for your buck and we will stress those. We're a small business and that's how we think and we want you to get the most out of your hard-earned money.