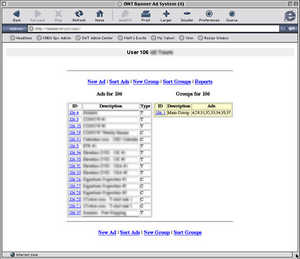 OWT offers a flexible and powerful Banner Ad Management system that can open up a new revenue stream for you. Our system will allow you to present banner ads across your site, giving your advertisers maximum exposure to your site users. The system also supports targeted advertising -- you can assign certain ads or groups of ads to appear only on certain pages within your site.
The success of a banner ad is measured statistically, and OWT's Banner Ad Management system provides detailed statistics for each banner ad in use on your site. Our system tracks views (how many times the ad was seen by a web user) and click-thrus (how many times a web user clicked on the ad) and archives statistics from previous months for comparative analysis.
Best of all, the system is completely automated -- including the upload of the banner ad to your web site! Our clients manage their own banner ad inventories through a password-protected administration area.
Pricing
Banner advertising is included free with the OWT CMS.
Install of our free standing Banner Ad Management system is $100. Use of the system is $5/month or $50/year.
We're happy to meet with prospective clients to discuss your project and provide a custom estimate for development.