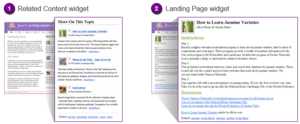 RichContent is a simple, self-serve way for website owners to add relevant, high quality articles and videos to their sites. From new to existing websites, users can easily expand or refresh the content on their website.
Content is sourced from an industry leading library containing millions of rights-cleared, premium articles. The same library powering leading industry brands such as McGraw-Hill Companies, The Chicago Sun-Times, Cox Newspapers, Kohler and the Canadian Broadcast Corporation.
A RichContent widget is a portable piece of code that can be placed on your website to display RichContent related articles and videos. Widgets can be used for displaying related links, full articles and videos
Related Content widget
The Related Content Widget reads the existing content on your page and shows visitors links to similar or related articles, videos, and topics. Visitors click on a related article or video headline to view a full article about that topic.
Landing Page widget
Our Landing Page Widget is a smart little widget. When one of your site visitors clicks on any related article or video title, or clicks on a "related tag" link, the Landing Page Widget displays the full content, whether that's an article, a video, or a topic page.
All this for as little as $7.95 per month!